Skip to content
Skip to main menu
Sri Lanka: Tips for Travel Agents to Design the Best Experience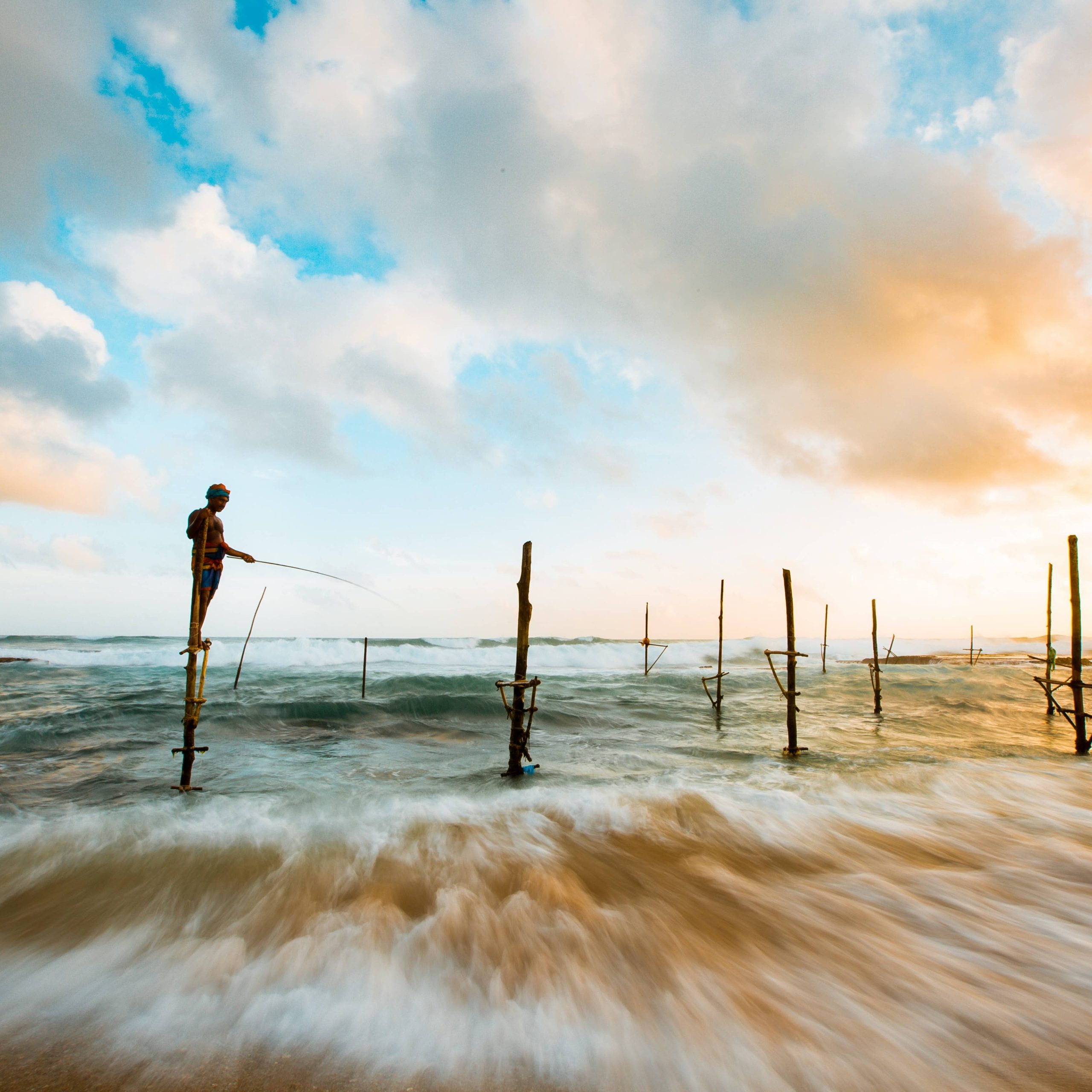 The scent of cinnamon, the undulating Ceylon tea hills that disappear into the distance, magnificent beaches with coral to cool our feet... The old Ceylon may be described as a location that we can experience with all our senses. Sri Lanka was one of the most popular travel destinations in 2021, and it appears that this trend will continue this year. Today, we'll look at some suggestions to bear in mind while planning a vacation for your clients, as well as some top places to visit on the island of a thousand names. Prepare your suitcase, travel agents, tour operators, and DMCs!
The pearl of the Indian Ocean
When is the best moment to visit Sri Lanka?
When planning a trip to Sri Lanka, the first thing to think about is when is the best time to go. Climate change is an important consideration because it makes visiting the island more challenging depending on the season. Furthermore, based on which location of Sri Lanka your client is interested in, it is more practical to choose one season over another.
Sri Lanka's weather can be extreme, with high temperatures and monsoons. It's best to figure out which part of the island the client will be visiting first to avoid both of them as much as possible. Rain occurs in the northwestern portion of Sri Lanka from October to February, although it is influenced in the southwest from April to September (via Barcelo Magazine).
It is more convenient to choose one season over another depending on the region of Sri Lanka your client is interested in
To summarise, December to March is the greatest season to visit the west and south coasts, as well as the hill country. If your customers are planning a trip to the east coast, however, April or May through September are the best months to visit.
Important considerations
We at moonstride aim to ensure that your clients have a safe and healthy holiday. As a result, we've created a list of factors to consider while planning a trip to Sri Lanka. We've compiled a list of suggestions to assist you in planning your trip, ranging from how to act to being informed of the current situation.
Traffic
Keep in mind that traffic in Sri Lanka might be busy on the roads and trains while arranging your schedule. Travel to and from the airport, as well as travel during the tour, should be arranged in advance to account for unexpected delays. You can save your clients from worry, frustration, and suffering by doing so.
Behave
Make some behavioral suggestions to your clients. From the Experience It Sri Lanka blog, we've compiled a list of the most important recommendations:
Keep your distance from monks because touching them is considered disrespectful.
Don't take selfies with Buddha statues.
Hide Buddha tattoos, as having the image of Buddha on one's body is considered offensive.
It's also worth noting that serving alcohol is prohibited on Poya Days (the full moon of each month).
Sunbathing in public beaches and pools while naked or topless is prohibited. A private room with a personal plunge pool is frequently available at hotels and resorts.
Try the local gastronomy and eat and shake hands with your right hand! Forget about forks and your left hand, which is regarded as unworthy.
Health
Don't drink the tap water. It is recommended that you consume bottled water and even wash your teeth with it.
To prevent Dengue fever, spray your room with insect repellent and sleep under a mosquito net with the windows shut. Tourists aren't usually getting contagious, but it's still a good idea to follow these precautions.
Schedule travels when heat waves are less severe and advise your clients to use sunscreen.
The hidden gems of Sri Lanka
Sri Lanka combines a stunning natural landscape with a rich history. The 150 Buddha sculptures inside the Dambulla Royal Cave Temple to the lovely beach of Passekudah are just a few of the sites to explore while planning a trip to this Indian Ocean gem. We've compiled a list of the greatest locations to visit, which includes everything from well-known tourist destinations to lesser-known treasures… to lesser-known tourist spots, so you can deliver a fresh and engaging experience for your clients.
The infinite sea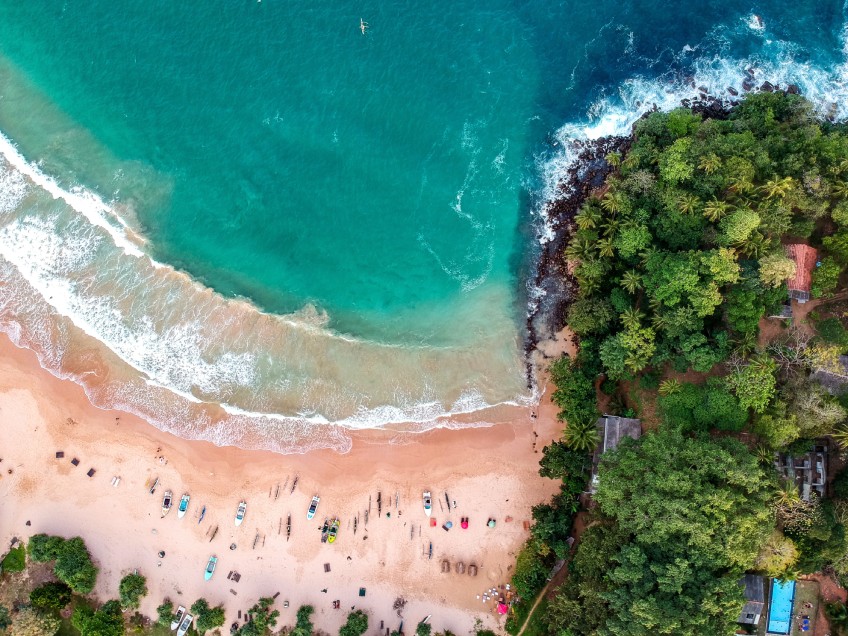 Due to weather conditions, the majority of visitors to Sri Lanka pick between two coastal areas: the southwest, which has pleasant weather from November to March, and the northwest, which is ideal to visit from April to September. One of Sri Lanka's diamonds is Mirissa Beach. With 600 meters of coast, it's on the south shore and it's a popular diving and surfing destination.
Divers can explore the reefs and then relax in the shade of the coconut palms that line the beach at Passekudah, which is located on the island's eastern shore. Weligama, on the other hand, is a tourist hotspot in Sri Lanka since it is home to the island's famous stilt fishermen as well as one of the island's most beautiful beaches. From there, clients can go whale viewing or surfing. In Sri Lanka, beaches such as Bentota, Hikkaduwa, and Turtle Beach, sometimes known as the Golden Mille, are recommended.
The thousand statues of Buddha
It appears that you can walk in Buddha's footsteps in Sri Lanka. Kande Vihara, an 18th-century temple under the sigh of a gigantic, seated Buddha, is one of the most well-known temples. Despite the renowned image of its 160-foot-tall Buddha, this area is "usually beyond the reach of the common traveler" (via La Sociedad Geográfica), so make sure to tell your clients about it! On the other hand, the Dambulla Royal Cave Temple is a must-see sight in Sri Lanka, with over 2000-year-old paintings and 150 Buddha sculptures. It is one of the island's most iconic places, located 148 kilometers north of Colombo, Sri Lanka's capital.
Gal Vihara Temple, where your guests may see a 15-meter-long reclining Buddha statue, and Buduruwagala Temple, where your clients can see seven Buddha statues cut into the rock in the 10th century by a waterfall, are two more well-known Buddhist temples. The left canine tooth of Gautama Buddha is even kept at the Temple of the Sacred Tooth Relic!
The Ancient Kingdoms of the island
When tourists visit Sri Lanka, the so-called Cultural Triangle is one of the most popular destinations. This triangle is made up of three major cities: Anuradhapura to the north, Polonaruwa to the east, and Kandy to the south, each with its own set of charms. We've just mentioned a few of them because listing them all would require a book!
Are you willing to go on a quest for immortality? Because Ritigala is a mysterious woodland full of legends about the medicinal qualities of the sansevieria plant. Your clients will have the opportunity to visit a first-century BC temple, which they will be able to investigate by walking along its stone paths. Yapahuwa, on the other hand, is a temple from a time when rulers fought wars in their strongholds. There are also a lot of caverns there with Buddha sculptures. Other destinations your client might like to visit are Anuradhapura, Buduruwagala, and Yapahuwa!
Highlands of Sri Lanka: the Kandy to Ella train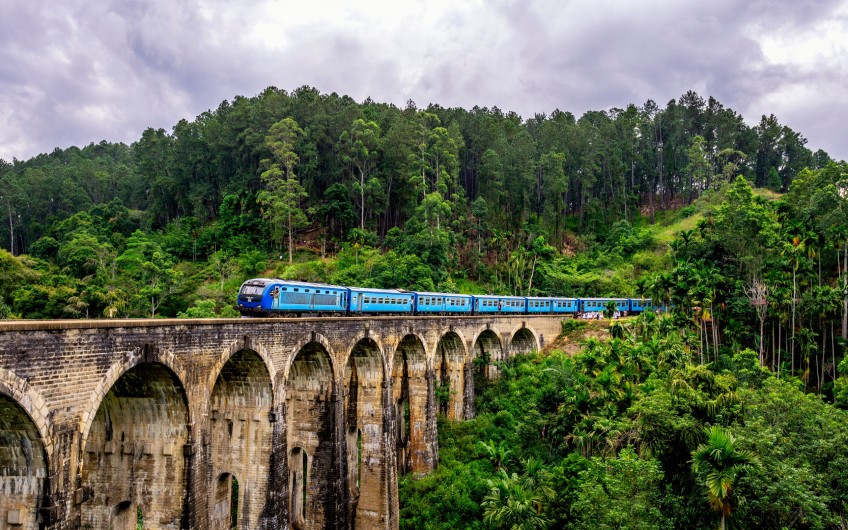 If you want to give sustainable vacations and tours, the train is one of the best modes of transportation, and Sri Lanka provides a great excuse to do so. Your clients will be able to visit charming tiny towns like Nuwara Eliya, Ratnapura, Badulla, or Haputale thanks to the train that runs from Kandy to Ella. The Nine Arches Bridge, popularly known as the Bridge in the Sky, is a must-see after the train arrives in Ella.
You may recommend a trip to Adam's Peak to your clients if they're feeling bold. Just don't forget to tell them there are 5,200 steps to climb! On the summit of this mountain, they will find a Buddha temple, where they will be able to ring a bell each time, they reach the highest point.
Ceylon tea trails
Another attraction for visitors is a tour through the Ceylon tea trails, where they can breathe in the fresh air that pervades these locations. Kandy, one of the Cultural Triangle cities, is surrounded by tea fields. You could also include a visit of the ancient Loolecondera tea estate in your package, which was the birthplace of Ceylon tea in 1867, due to Scottish farmer James Taylor.
Final recommendation: avoid including the Pinnawala Elephant Orphanage on your tour
We at moonstride work hard to supply you with the best places to visit, not only for cultural or recreational purposes, but also to ensure that they are environmentally friendly and free of activities like animal cruelty. The Hand Luggage Only blog discourages tourists and travel agents to include the Pinnawala Elephant Orphanage on their Sri Lanka visit. "Hidden behind those glossy Instagram shots of the elephants in Pinnawala River is a pretty dark culture of economic greed, cruelty and animal abuse," the blog claims.
The visit to this orphanage is likewise rejected by Responsible Travel. Instead, suggest Minneriya National Park, Udawalawe National Park, or Yale National Park to your customers who want to view elephants, where the animals are allowed to roam freely.
moonstride: how we can help you
If you're a DMC or a travel agent, you'll almost certainly receive requests from all over the world to visit Sri Lanka. moonstride is a customer relationship management system that ensures you can deal with a large volume of data from your clients from anywhere and at any time. Using our cloud-based tour builder, you can create the best itinerary for your clients, taking their preferences into account – some may choose to spend their vacations on the beach, while others may be bold enough to climb to the top of Adam's Peak!
You can adapt to all of your clients' needs and preferences with our software while still offering them the best possible pricing for their packages: moonstride gives you access to third-party suppliers once you have integrated with the suppliers, allowing you to view all of the deals for flights, lodgings, and transfers that will appeal to your clients in one place. You will also have complete control over every element of their trip, including flights, lodging, transfer schedules, and any activities they will partake in.
From beaches to temples, moonstride allows you to design the best itinerary for your clients
Remember that Sri Lanka is a region where meticulous planning is required in order to avoid delays and irritation for your clients during their stay. moonstride has a lot more to offer you and your clients, so we'd be happy to go through each feature with you in greater depth! Contact us immediately to request a free demo of our user-friendly system.