Skip to content
Skip to main menu
TravelTech Show 2023 Takeaways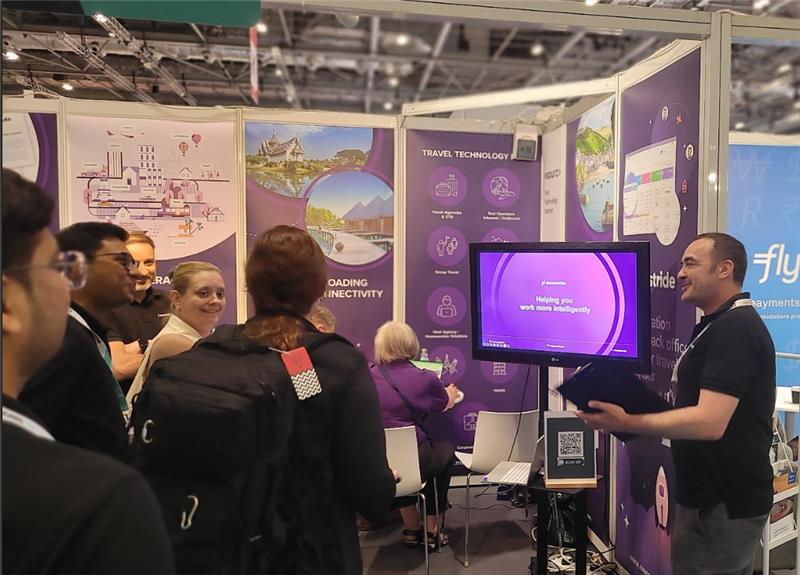 TravelTech 2023 – a wealth of knowledge
Another fascinating and incredible TravelTech show, the ExCel centre was buzzing with travel experts providing a superior source of industry knowledge and expertise. Every show we at moonstride attend we gain a wealth of knowledge which we use to help define the direction of our moonstride platform to solve pain points, match the industry trends and keep ahead of the curve.
Automation – easing the admin
With travel now really back to pre-covid levels, businesses are re-building and those pain points that went to the back of the priority queue have quickly come to the forefront once again. Whether it's using multiple platforms or staff having an almost unmanageable list of manual tasks, the burden of those everyday tasks is now starting to put a strain on staff time.
Automation and single solution platforms like moonstride are vital to get the best out of your team allowing your staff to concentrate on delighting your customers. With an efficient travel CRM, back office and booking engine your productivity only goes one way – upwards.
Distribution – product and content
There are two distinct areas around distribution we heard over and over again – distribution of your products such as hotels or tours and then distribution of your content across multiple channels.
Content management can be tricky when you need to distribute your content to multiple channels. aurastride is a headless CMS platform with effortless content modelling and customisation, seamlessly integrating with moonstride delivering omnichannel excellence. With its API-first approach, aurastride can integrate with third party systems including existing booking platforms allowing you to dynamically deliver tailored content.
Here at moonstride we are working hard on distribution channels with work ongoing with our partners increasing and establishing new distribution lines for your products.
Updating and Refreshing your Tech Stack
Over time tech stacks that were once cutting edge are starting to go blunt and are in need of an update and a refresh.
To stay competitive and meet the ever-changing demands of travelers, businesses must embrace modern tech stacks that offer flexibility, scalability, and enhanced functionality.
One key aspect of modern tech stacks is cloud computing. By migrating to the cloud, travel businesses can leverage the power of scalable infrastructure, eliminating the need for on-premises servers and hardware. Cloud-based solutions provide the agility to handle fluctuating demand, ensuring optimal performance and seamless user experiences.
Another essential element of modern tech stacks is the adoption of microservices architecture. Breaking down monolithic systems into smaller, decoupled services allows for greater flexibility and agility. Each service can be developed, updated, and scaled independently, empowering businesses to iterate quickly and respond to market changes effectively.
Additionally, embracing APIs (Application Programming Interfaces) enables travel companies to integrate with various third-party systems, expanding their capabilities and offering personalised experiences. API-driven architectures foster seamless connectivity, enabling businesses to leverage the vast ecosystem of travel-related services, such as booking engines, payment gateways, and content aggregators.
To successfully update their tech stacks, travel businesses should prioritise collaboration with experienced technology partners. These partners can provide guidance on selecting the right technologies, designing robust architectures, and implementing efficient migration strategies. By embracing modern tech stacks, the travel industry can unlock new opportunities, enhance operational efficiency, and deliver exceptional experiences to travelers.
Travel intelligence in the form of AI, ML, BI, ChatGPT
The travel industry is dominated with discussion around AI and the TravelTech productions centred in on this topic. At moonstride we believe AI has a major role to play in the future of the travel industry in various forms but also in the present, right here today.
AI doesn't have to be as scary as some may believe and it is up to leading travel technology providers like moonstride to deliver sensible, accessible, affordable access to AI technology. Many we spoke to were unsure how it could be used, how they could build AI into their current systems and its accessibility.
ML (Machine Learning with the ability to interpret data and accurately predict outcomes)
BI (Business Intelligence to combine analytics and data to drive smart decisions)
Chat GPT (natural language processing tool)
AI (Artificial Intelligence – a combination of ML, BI and other forms of machine learning providing the ability to perform cognitive functions)
AI, ML, BI all bring incredible opportunity such as offering aid to gathering and interpreting data driving smart decisions, advancing automation from alerting you when a contract needs renewing, when stock is running low to generating booking tasks and reminders. As a sales aid generating personal recommendations and suggested itineraries to chat bots being able to answer key or frequently asked questions and booking queries.
AI in travel is not here to replace staff, it is an advancement to aid staff…an advancement in booking engine searches, advancement in holiday research tools, an advancement in automation all of which is already embedded in any good modern travel platform like moonstride.