Skip to content
Skip to main menu
moonstride Dashboard, your Daily Ally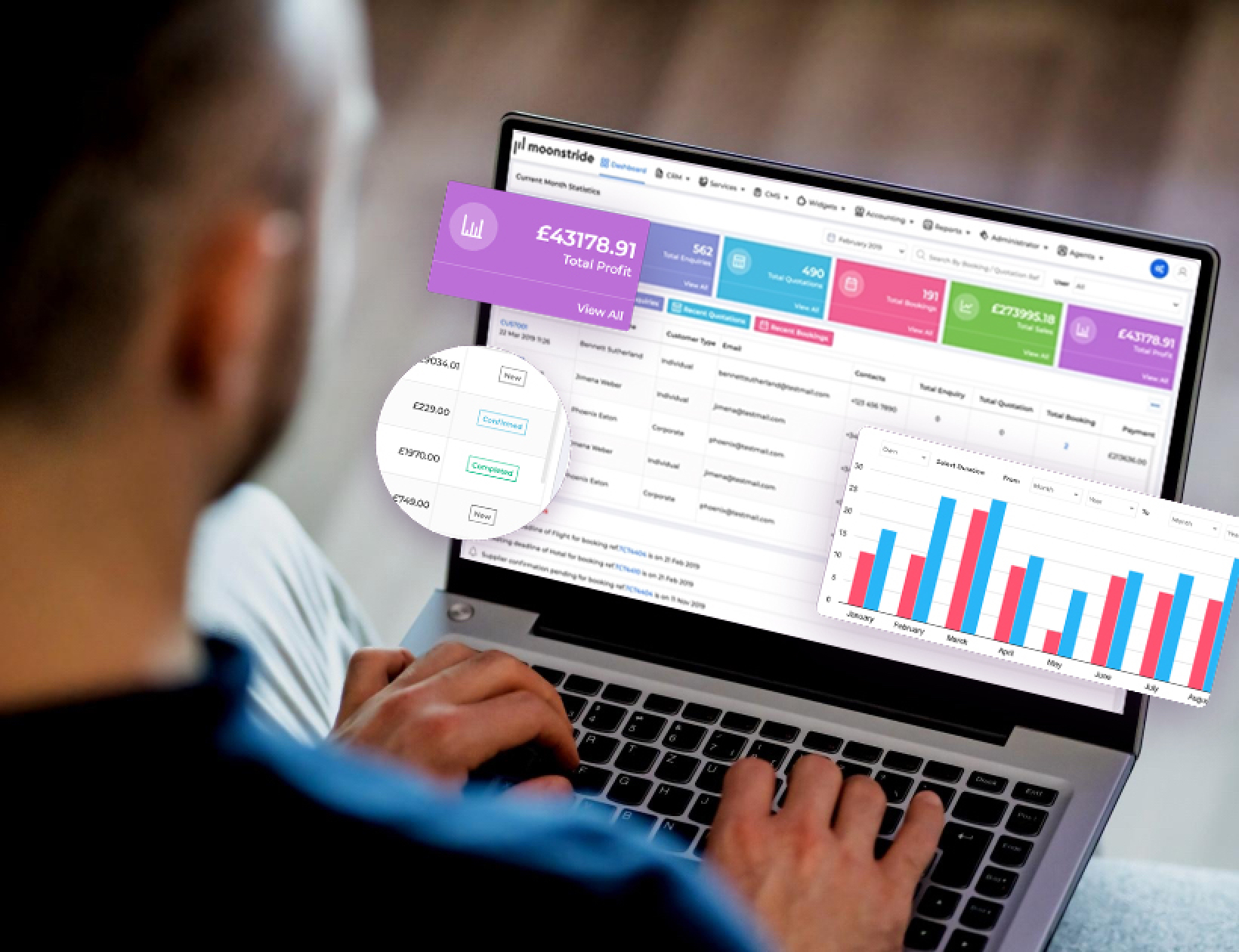 In the travel industry competition is fierce and customer expectations are higher than ever, having the right tools at your disposal can make all the difference. moonstride, our leading Travel Sales & Management SaaS technology platform, is designed to empower travel agents and tour operators. With cutting-edge features and modules covering CRM, Back Office,
Booking Engine
, Supplier Management, Finance & Accounts, Reporting, and Contract Management, moonstride has become the trusted partner for travel businesses worldwide.
Today, we want to shine a spotlight on one of our most beloved features – the moonstride dashboard. This powerful tool is at the heart of what makes moonstride indispensable for the travel industry. Let's dive into how each facet of the dashboard streamlines daily operations, making work life easier and more efficient.
1. Sales & Profit Statistics
At the core of every travel business's success lies an understanding of sales and profitability. The moonstride dashboard provides a real-time snapshot of these critical metrics. CTOs and CEOs can assess the health of the business at a glance, while CMOs can use this data to make informed marketing decisions.
2. Upcoming Task Reminders
Travel businesses thrive on efficient task management. The dashboard keeps everyone on track with upcoming tasks, ensuring that no important deadline or client request falls through the cracks. COOs and their teams can stay organised and responsive.
3. New Leads
For CMOs, new leads are the lifeblood of growth. Our moonstride dashboard instantly highlights new leads, allowing for quick follow-ups and the nurturing of potential customers. This helps maximise conversion rates and revenue.
4. Airline Ticket Deadlines
Missing airline ticket deadlines can result in unhappy customers and financial losses. CTOs rely on the dashboard to keep tabs on these critical dates, ensuring that tickets are booked and issued promptly.
5. Supplier and Customer Payments Due & Overdue
Finance and Accounts teams appreciate the dashboard's ability to track supplier and customer payments. It ensures timely collections and payments, preventing cash flow issues. CEOs and COOs can rest easy knowing that financial operations are running smoothly.
6. Upcoming Bookings
Tour operators and travel agents can't afford to overlook upcoming bookings. The dashboard provides a comprehensive view of upcoming reservations, allowing for proper preparation and a seamless customer experience.
7. Sales Goal Statistics
For CEOs and CMOs, setting and tracking sales goals is essential. moonstride's dashboard offers insightful sales goal statistics, enabling informed strategies to achieve targets and exceed expectations.
Overall, the moonstride dashboard is more than just a feature; it's a daily ally not just for CTOs, COOs, CEOs, and CMOs in the travel industry, but for all staff. By providing a clear, real-time view of crucial data and tasks, it streamlines operations, enhances decision-making, and ultimately ensures that travel businesses can thrive in today's competitive landscape.
Embrace moonstride's cutting edge technology, backed by the latest innovations and experience firsthand how the dashboard transforms your daily workflow, making your work life easier and your travel business more successful.