Skip to content
Skip to main menu
Seamless Onboarding and Unparalleled Support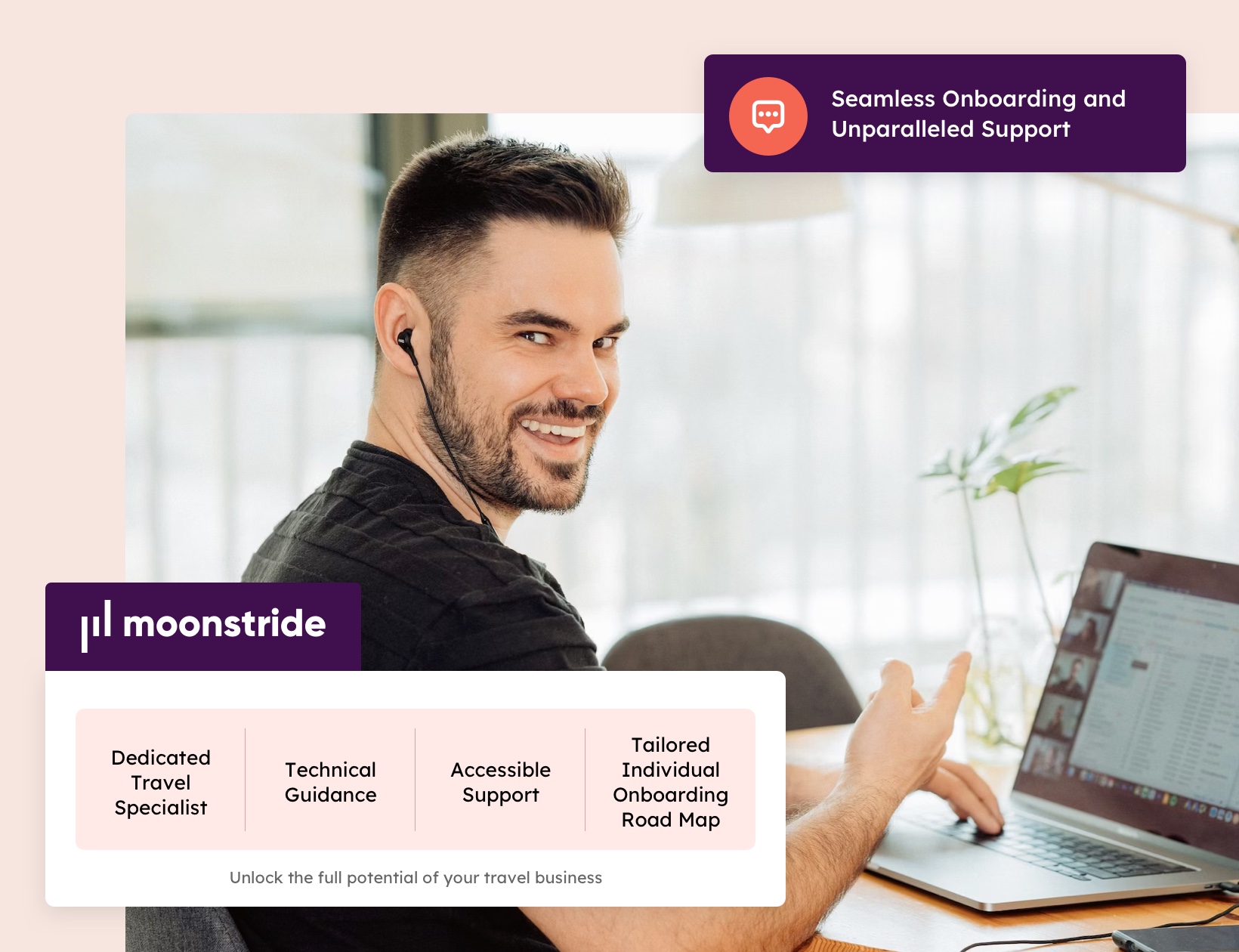 Harnessing the power of cutting-edge technology is the key to success. moonstride Travel Sales & Management SaaS platform stands at the forefront of travel technology, leveraging the latest technologies providing a highly scalable solution. But what truly sets moonstride apart is its unwavering commitment to support and onboarding, making it the ideal partner for
travel agents
and
tour operators
.
Guiding You on the Path to Success
A Personal Touch: Your Dedicated Travel Specialist
Embarking on your moonstride journey is an exciting endeavour, and we understand that you may have questions and concerns along the way. That's why we provide you with a dedicated travel specialist who will be your trusted advisor throughout the onboarding process. They will work closely with you, ensuring that your journey with moonstride begins on the right foot.
Technical Guidance at Every Step
When navigating the setup and implementation of the powerful moonstride SaaS platform, our team of experts will be there to provide you with technical guidance and direction, ensuring that your platform is configured optimally to meet your specific needs. We understand the intricacies of the travel industry, and we'll help you harness moonstride's capabilities to the fullest.
Accessible Help & Support
At moonstride, we're committed to your success, and that commitment extends beyond the initial onboarding process. We offer accessible help and support whenever you need it. Our support team is always ready to assist you, with moonstride, you're never alone on your journey.

The moonstride Onboarding Journey – A Blueprint for Success
Our onboarding plan is meticulously designed to ensure that you get the most out of moonstride right from day one. Here's a glimpse of what you can expect during your onboarding journey:
Requirement Gathering & Consultation
An introduction to your moonstride journey
Technical setup assistance
Feature and functionality overview tailored to your requirements
Discussion of specific needs
Identification of key users and user roles
Technical Configuration and Training
Setup of the master administrator account
Project communication and support line setup
Meet your technical implementation specialist online
Documentation configuration
Comprehensive training sessions
Customised email template setup
In-depth walkthrough of the entire booking journey, from enquiry to invoicing
Overview of accounting, cancellation, and reports
Integration of Required APIs
System configuration updates based on API requirements
Further walkthrough of the booking journey to ensure seamless integration
Ongoing Support
Gathering customer feedback for continuous improvement
Easy access to the moonstride support team for any assistance you may need
Unlock the Benefits of moonstride
1. Rapid Start: Get up and running quickly with personalised guidance.
2. Efficiency: Streamline your operations and enhance your team's productivity.
3. Integration: Seamlessly connect with APIs and optimise your processes.
4. Continuous Improvement: Benefit from ongoing support and stay ahead of industry changes.
Our moonstride Travel Sales and Management platform, fortified with dedicated support and comprehensive onboarding, empowers travel agents and tour operators to reach new heights of success. Unlock the full potential of your travel business and join us on a journey where innovation meets support, and your success is our priority.