Skip to content
Skip to main menu
Hotel Contract Loading with moonstride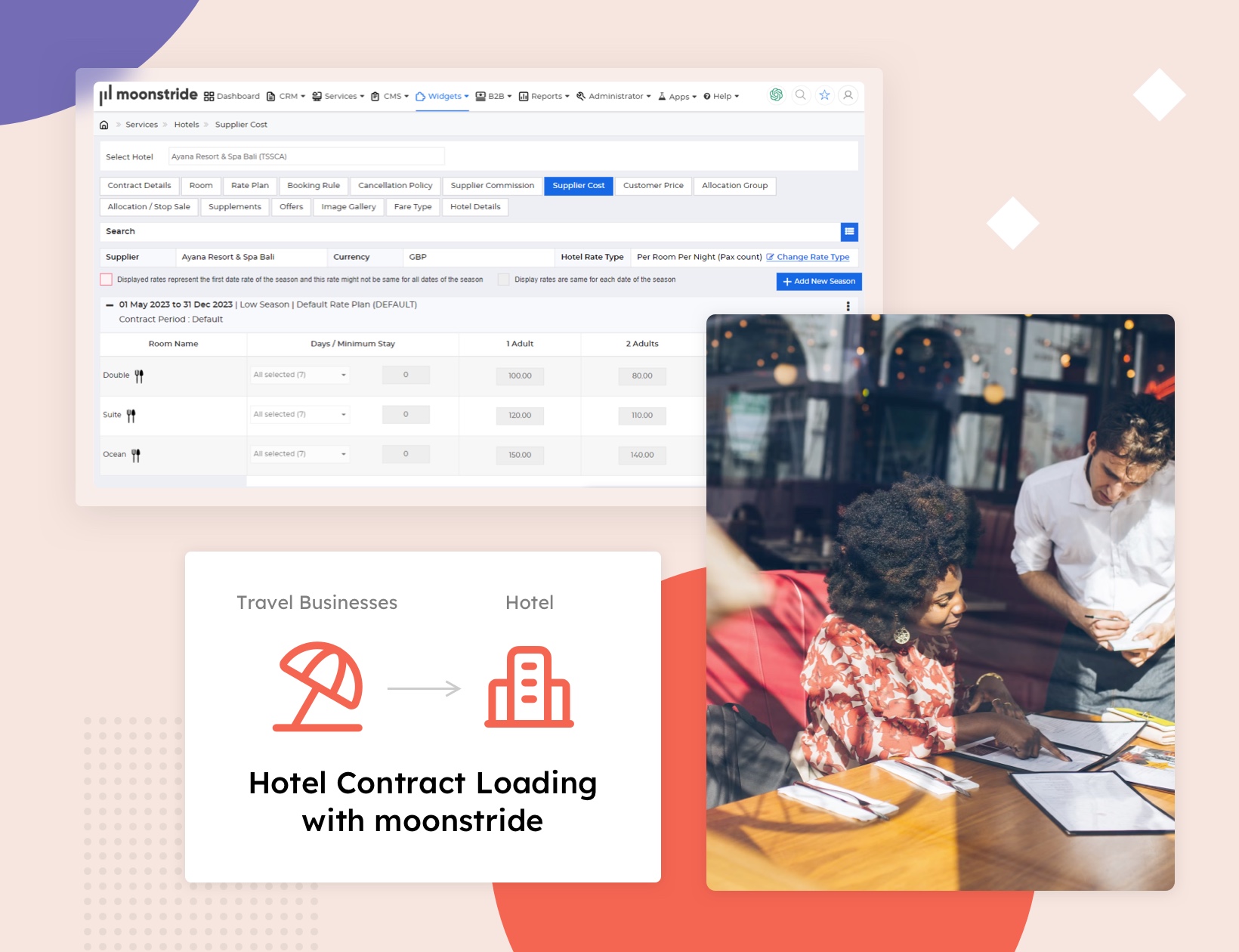 Hotel contract loading is one of many fundamental processes in the travel industry that involves managing the relationships between travel businesses and hotels. Travel agents and tour operators rely on this process to secure accommodations for their customers, negotiate rates, and establish essential policies. This process can be arduous and time-consuming, often resulting in operational bottlenecks.
moonstride
offers innovative solutions to simplify contract loading.
Problems Solved by moonstride
Time-Consuming Manual Work: moonstride is packed full of features to help speed up the process of contract loading drastically reducing the time and effort required.
Complex Policy Management: Manage your hotel policies, such as check-in/check-out policies, cancellation policies, taxes, and child policies with moonstride's policy management, ensuring that you stay compliant with hotel regulations.
Rate Management Challenges: moonstride allows travel agents and tour operators to manage supplier costs and customer prices with multiple mark-up options. This flexibility is crucial for maintaining competitiveness in the travel market.
Inventory Control: Keeping track of available hotel rooms and ensuring that the inventory is up-to-date. moonstride provides inventory management, keeping on top of your inventory and minimising the risk of overbooking.
Offer and Discount Management: In the highly competitive travel industry, offering attractive deals and discounts can make or break a business. moonstride enables travel businesses to manage offers and discounts seamlessly, enhancing their ability to attract customers.
Booking Rules and Policies: Customised booking rules and policies are essential for meeting customer demands while ensuring profitability. moonstride empowers travel businesses to set and enforce these rules effortlessly.
Advantages of moonstride's Hotel Contract Loading
Rich Content Management: moonstride offers a user-friendly platform for managing rich content, including high-quality images, detailed descriptions and more, enhancing the attractiveness of your hotel listings.
Streamlined Policy Management: Confusion and errors in policy management are a thing of the past. moonstride ensures that policies are accurately maintained and communicated to customers.
Effortless Rate Management: With moonstride, travel businesses can adjust pricing strategies in real-time to respond to the dynamic market maximising revenue potential.
Real-Time Inventory Updates: Stay on top of inventory fluctuations with moonstride's inventory management, reducing the risk of booking errors.
Competitive Advantage: By offering the most attractive offers and discounts, travel businesses using moonstride can gain a competitive edge and secure customer loyalty.
Enhanced Customer Experience: Accurate booking rules and policies mean happier customers who can make informed decisions, leading to increased customer satisfaction.
moonstride's innovative approach to hotel contract by simplifying the complex processes involved in contract loading, moonstride empowers businesses to offer competitive rates, attractive offers, and an exceptional customer experience. With its cutting-edge technology stack, including Amazon Cloud and clean architecture, moonstride is poised to drive the success of travel businesses into the future, making it an indispensable tool for any travel industry professional. Stay ahead of the competition with moonstride and revolutionise your travel business today.