Skip to content
Skip to main menu
Your complete tailor-made tourism board solution designed to bring your destination to life and stand out in a crowded digital environment. moonstride maximises opportunities to connect with travellers at any stage of the visitor journey and ensures they are left inspired and captivated.
Our one-stop DMO travel software has everything you need, with the following features
Eye-catching design with custom UI/UX and branding
We help numerous DMO services and tourism boards from around the world to connect with their customers by crafting visually stunning websites that reflect your brand and service. Our objective is to grow your visitor economy through innovative destination and tourism digital marketing.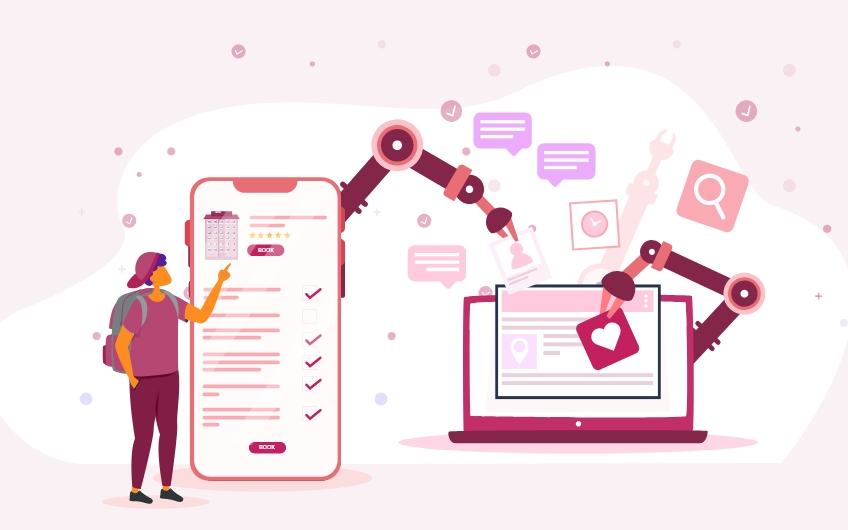 Enjoyable user experience
We use intuitive user-friendly designs, clever travel technology, and personalised marketing to facilitate and simplify the user experience and optimise conversion.
Designed to work on mobiles, desktops, and across devices to ensure you can reach out to visitors on the devices they love to use.
Integration with booking engines​
moonstride can integrate the website with your booking software and work with every leading booking engine with open API's, enhancing your destination's promotional effectiveness.
Hassle-free website integration
Our specialist team can easily help you migrate your data, content and important details from your existing website to the new website. We also ensure that your search engine rankings are retained and use search engine recommended best practices for site migration.
Content Management System
Relevant and Personalised content
We develop websites on cutting edge frameworks including WordPress, Umbraco, and other-fit for purpose solutions. With our destination management system, it has never been easier or quicker to add or edit personalised destination content to ensure you remain relevant and responsive to what is happening in real-time. From destination information to high-definition images and detailed maps, it has never been more simple to showcase your destination.
Maximise user engagement with enticing and dynamic itineraries with moonstride's automated itinerary builder. Build personalised day-by-day itineraries in minutes by extracting preloaded information from the content management system. Save each itinerary as a template and avoid having to create them from scratch.
Widen your global offering with the ability to use content in multiple languages and currencies, to diversify your site visitors.
With a centrally organised CMS it is possible to produce a number of sites under one central umbrella. Expand your online presence and market different segments specific to your destination.
With information stored in one single platform, Business Intelligence (BI) software can easily analyse your data (historic and present data) and turn it into a useful tool to drive your business forward. With such capability, it is simple to identify key booking patterns and trends enabling you to make informed business decisions accordingly. From identifying the most profitable visitors to booking seasonality and conversion rates, let BI provide you with the insight to work with purpose and expand your visitor economy.
Dedicated Tourism Board CRM
Manage affiliated members, stakeholders and visitors
Keep detailed records on affiliated members, stakeholders and visitors all within one platform allowing you to build relationships and keep on top of communication.
Stay on top of all enquiries
Never miss an enquiry again. moonstrides software solution for tourism boards have readily available APIs to easily integrate with your website. All enquiries submitted on your website will be captured and automatically logged onto the system, allowing you to work on them right away.
Centralise communication with members, stakeholders and visitors
Centralise your communication, and say goodby to digging through your inbox. Our two-way email system syncs all member, stakeholder and visitor email correspondence to its associated query/enquiry/quotation/booking.
Direct contracting loading module
Streamline and simplify working with affiliated members including hotels, flights, tours/activities, and car hire with moonstride's destination management solution. With the contract loading module you can easily load and manage a range of contracts for travel services no matter how complex and drive considerable revenue for your destination.
Multiple integrations with affiliated members and global distribution systems, offer them cost-effective channels of distribution and at the same time enhances what your destination has to offer. The visitors booking process is simplified with real time availability and confirmation, access to the best negotiated rates and extensive global travel product content, direct from within moonstride's booking engine. Create a seamless connection between members and visitors, and effectively grow your tourism in your destination.
Create Visitor Interaction
Heighten visitor interaction with the ability to send out automated and personalised email notifications, based on predefined triggers. This is a fantastic way to follow up with visitors and stay in touch from initial enquiry to post-booking. From providing them with updated destination information to asking for feedback after their destination visit, you can remain in contact without physically doing anything. Save time, improve conversion, and stay on top of each visitor journey.
Automate booking confirmation with affiliated members
For direct contract bookings, supplier confirmation management offers a two-way system, which emails the quotation details to affiliated members so they can quickly confirm availability directly within the platform. The system will notify you when each member responds, allowing you to ensure that all services are booked and never missed. Not only is the risk of error reduced but communication with members is improved and centralised.
State-of-the-art Website Design
Any website has a matter of seconds to engage and capture its visitor. That's why moonstride provide a number of capabilities to create unique and innovative website designs to create a powerful first impression. Using compelling imagery, persuasive and relevant content, as well as a number of visual or overlay effects, you can be confident that we will bring your brand to life.
It is our promise and responsibility to grow your visitor economy through strategic destination and digital marketing, website development and support to maximise your visitor potential.
We provide design and ongoing optimisation services, suggesting improvements where they matter the most to ensure the user experience remains enjoyable and relevant.
moonstride will digitally empower you to stay on top of the visitors minds and encourage them to visit your destination as a holiday destination. With increased capabilities to offer services with integrated API's, contract loading, booking engines and automated workflows you can be sure to drive spend from visitors planning a trip to your destination.