Skip to content
Skip to main menu
Unleashing Data Driven Insights – Revolutionising Reporting Capabilities with moonstride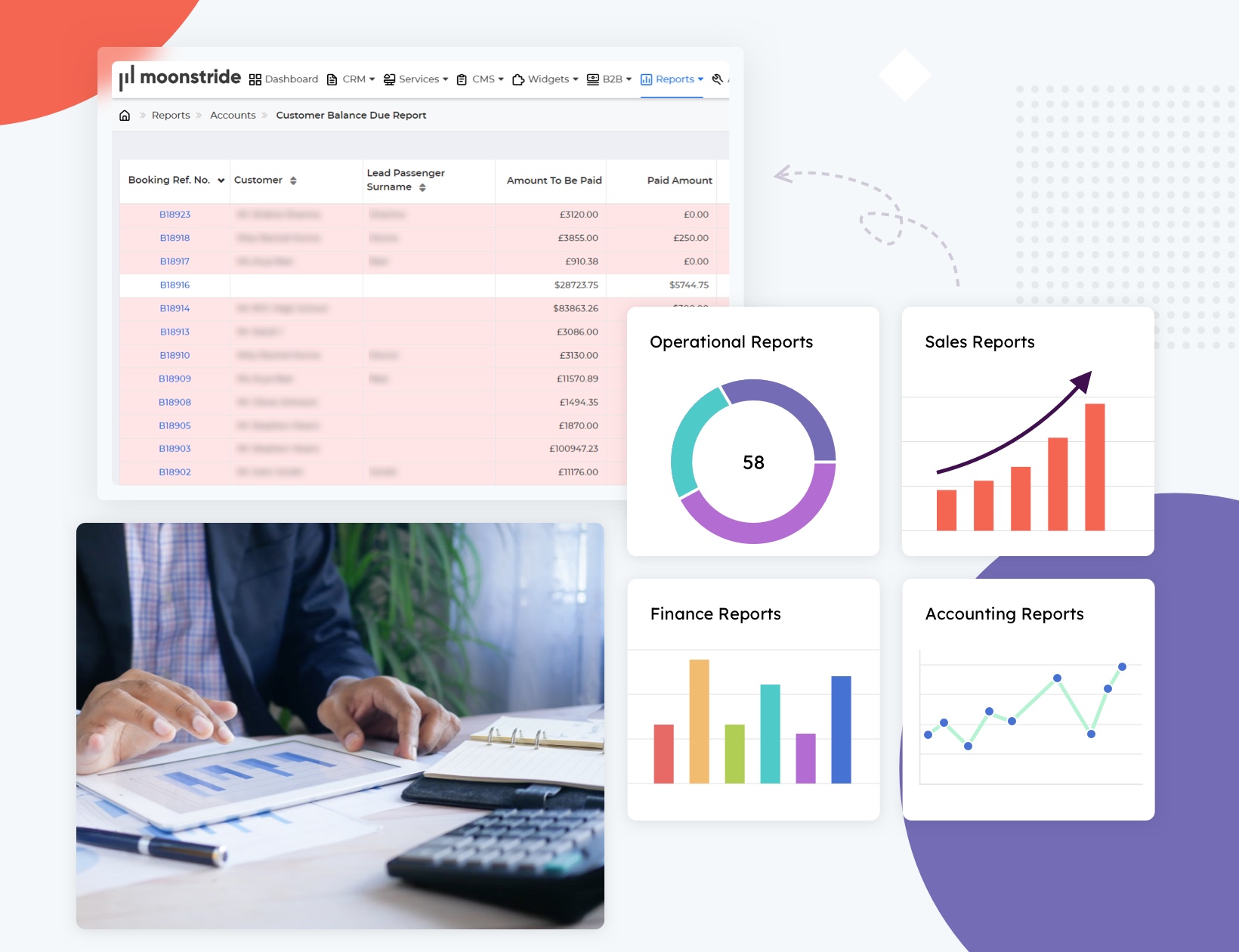 Staying ahead of the travel industry curve is not just an advantage - it's a necessity. As technology continues to evolve, businesses need intelligent solutions that not only streamline operations but also provide actionable insights. This is where moonstride, the Travel Industry SaaS technology platform, steps in and ps the game.
Harnessing the Power of Data
In today's competitive market, data is the driving force behind informed decision-making. moonstride, built on the latest technologies of Amazon cloud and boasting a clean architecture, is engineered with scalability in mind, ensuring that it not only keeps pace with your business but propels it forward.
A Comprehensive Reporting Suite
moonstride's reporting capabilities are a testament to the commitment in empowering travel agents and tour operators with the tools you need to thrive. The platform's reporting suite covers a broad spectrum of essential modules:

Operational Reports
Passenger Lists: Tailored for each travel service type (hotels, flights, transfers, tours, etc.), these reports provide a detailed overview of operational aspects, allowing you to optimise resources and enhance customer experiences.

Sales Reports
Bookings & Comparisons: Detailed analyses of bookings, along with insightful comparisons based on booking numbers and revenue, offer invaluable insights into sales performance, allowing you to refine strategies for maximum impact.

Finance Reports
Regulatory Compliance: Ensure you adhere to industry standards with ATOL and ABTA/ABTOT reporting, demonstrating a commitment to excellence and building trust with your customers.
Service Sales Analysis: Delve into the intricacies of service sales, identifying trends and opportunities for growth.
Banking & Daily Transactions: Track financial transactions with ease, ensuring that every penny is accounted for and optimising financial workflows.
Split Commission: Streamline commission processes by gaining visibility into how revenue is distributed among stakeholders.

Accounting Reports
Payment Due Alerts: Stay on top of financial obligations with reports highlighting customer and supplier payments due, ensuring that your business remains financially robust.
Sales & Purchase Invoice Reports: Gain a comprehensive overview of your financial transactions, facilitating accurate accounting and financial planning.
Payment Instalments Due: Keep track of instalment payments, enabling better cash flow management and reducing the risk of missed payments.

Other Reports
Hotel Inventory: Stay updated on available hotel inventory, ensuring that you can make informed decisions and provide the best options to your customers.
Tailored Insights, Seamless Export
With moonstride, the power lies in your hands. All reports are easily exportable to Excel, ensuring it can be retrieved and manipulated to suit your specific needs. Customisation is at the heart of moonstride's ethos; we can adapt existing reports or create entirely new ones to align perfectly with your requirements.
Conclusion: Elevate Your Travel Business with moonstride
In a rapidly evolving industry, the ability to adapt and thrive is paramount. moonstride empowers travel agents and tour operators with the insights they need to not only survive but flourish. With an unrivalled reporting suite, underpinned by the latest in cloud technology and clean architecture, moonstride is more than a platform—it's a strategic partner in your journey towards success.
To embark on this transformative journey, get in touch with our team today. Let's revolutionise the way you do travel business.