Skip to content
Skip to main menu
Why Travel CRM Software is the Perfect Way to Sell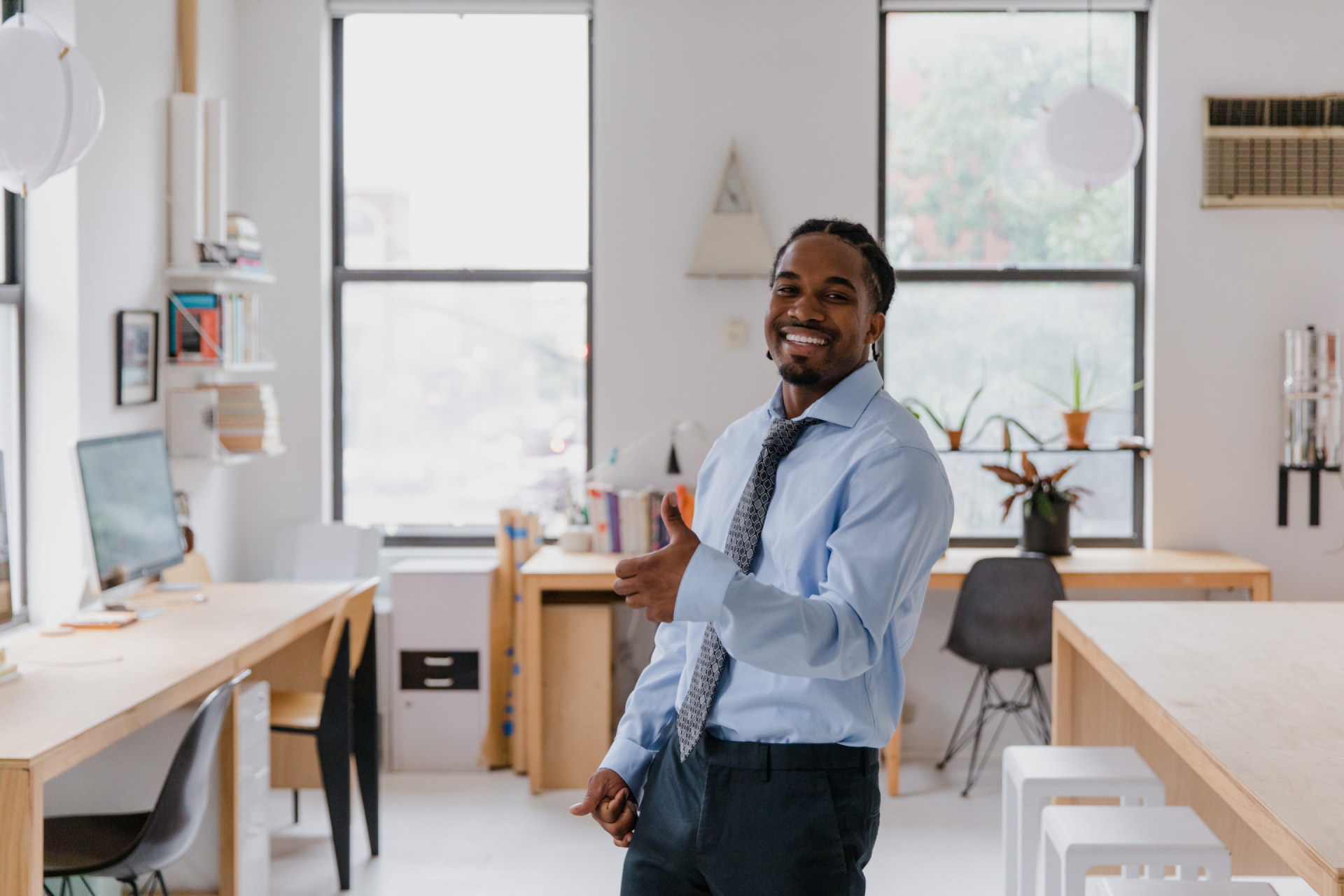 Still not convinced that having a travel CRM in your company is worthwhile? Continue reading and surprise yourself with our secret formula.
Hello. Do you smell it? It's the scent of sales and success in your company. I'm here today to completely transform your business with a single click. Still stumped about how?
The solution is easier than you think, and it'll help your profits grow in the blink of an eye.
CRM for travel holds the key to success. A tool on which an increasing number of tourism professionals rely on. "There is no replacement for a good CRM," said Larissa Parks, a travel consultant based in Waldorf, Maryland. "As a travel agent (…) we forget to collect valuable information from our existing clients and prospects," added Maria Hoover, owner of We Speak Travel, in Clearwater, Florida.
"The ability to make decisions quickly
is a requirement for success"
From organising your customer base to enhanced workflows, there are strong reasons to use this software for tour operators. Once you've entered your clients' information into your CRM, your team can use it to provide them with a more personalised and tailored experience.
This is referred to as a 360-degree customer view, and will allow you to strengthen your customer relationships. After all, the logic is straightforward: if you know your customers very well, you can provide them with better service.
And by giving them a better experience, increasing your sales and profits is a piece of cake. You can smell it now too, don't you? It's as simple as taking this small step.
As Sir Francis Bacon put it, "the ability to make decisions quickly is a requirement for success." A travel CRM allows you to make decisions effectively because you have all the information you need ahead of time.
Using this formula, your benefits will skyrocket. Do you want to know what the secret is behind all this? I'm going to walk you through the basic steps that a CRM in the tourism industry takes.
Travel CRM – The secret formula to success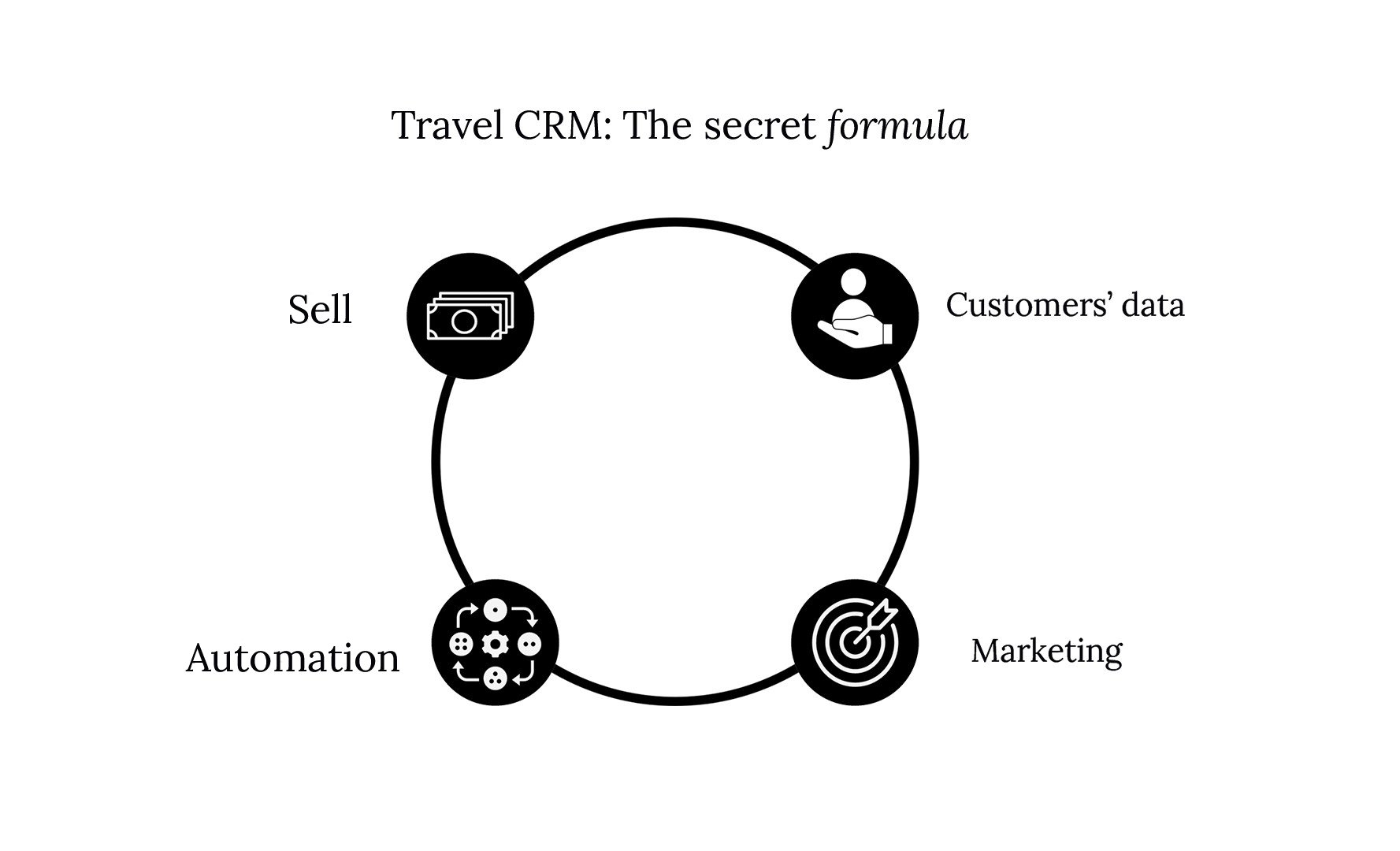 When you combine the power of a CRM with a booking engine + back office, organising your business becomes second nature. That's exactly what you'll do with moonstride. Our tour operator back office software is here to brighten your days at the office, while also speeding up your sales process.
I like to break down the secret formula into four steps to make it easier to understand.
Customers' Data
Marketing
Automation
Sell
and by giving them a better experience
As you can see, we start from the basics and work our way to the end. First, we get to know our client, and then we design a marketing strategy. CRM stands for Customer Relationship Management, and it means that the client is the centre of gravity through which our actions begin to increase our profits.
The final two steps imply ensuring the smoothness of day-to-day operations in order to achieve the ultimate goal. Finally, we made the sale.
Well. Easy, right?
Let's look more closely at what each of these steps involves.
1. Customers' Data
It's critical to have your business well organised if you want to be successful. The first step is to manage your consumer base's information from Day 1 (if you haven't already, please stop what you're doing and get started.)
When you know your travellers (their preferences, vacation times, peak purchasing periods, etc.). It's easier to determine when the best time is to offer them your products and services. In other words, you'll be in the right place and at the right time.
2. Marketing
The initial step leads to more refined, personalised marketing. Be aware of who your audience is: their preferences, their past interactions with you. This will allow you to run more targeted campaigns to your customers… and grow your sales opportunities.
CRM lets you automate personalised messages and provide a better customer experience. 1:1 marketing is a closer horizon. This includes improved communication as well as tailoring the products you offer them to their preferences and interests.
3. Automation 
CRMs provide benefits such as time and workflow optimisation. This is accomplished through the power of automation, which allows you to reduce your workload, optimise your time, save money… and reduce the dreaded human errors, among other benefits.
In this sense, we could say that it's a productivity booster. This software enables your teams to collaborate, organise tasks, and manage time while providing a better customer experience. On the other hand, since moonstride is cloud-based, all the information is stored on a single platform. Data is continuously synced, and also APIs.
4. and finally… Sell
When you have all this information at your fingertips… making the sale seems almost natural. After all, the chances of failure are reduced when you give the right offers at the right time.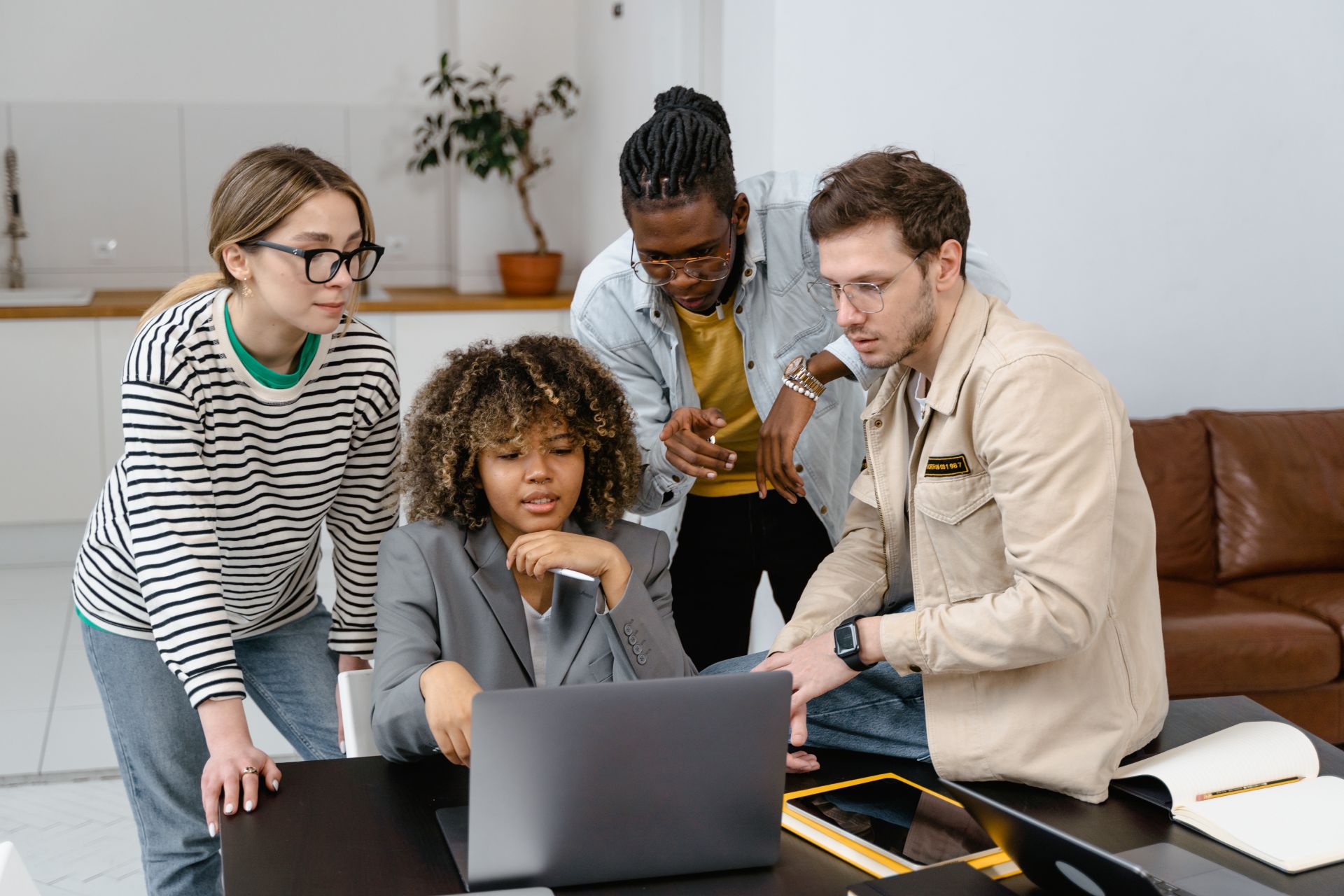 Still…
According to experts, few entrepreneurs and travel agencies understand the value of having a robust CRM in their business.
But the truth is…
… that attracting new clients and increasing the engagement of existing ones is easier and more efficient than ever.
Now is the time to get ahead of your competition and start selling more and better right away. While your competitors are still managing their sales the old-fashioned way… reimagine your business with this rising trend in 2022.
Sounds good?
moonstride is more than a CRM. Powered by a booking engine and back office technology, we are here to help you find the right path to your sales.
With over 15 years of experience in the tourism and technology sectors, we've assisted a wide range of clients in achieving their objectives. And now it's possible that it's your turn.
"Start selling more
and better"
Make time in your schedule for our team to tell you more about how we can assist you and how you can get the most out of moonstride. Oh, and don't forget that you can request a free, no-obligation demo.