Skip to content
Skip to main menu
Best Practices for Managing Bookings and Reservations with Travel CRM + Back Office Software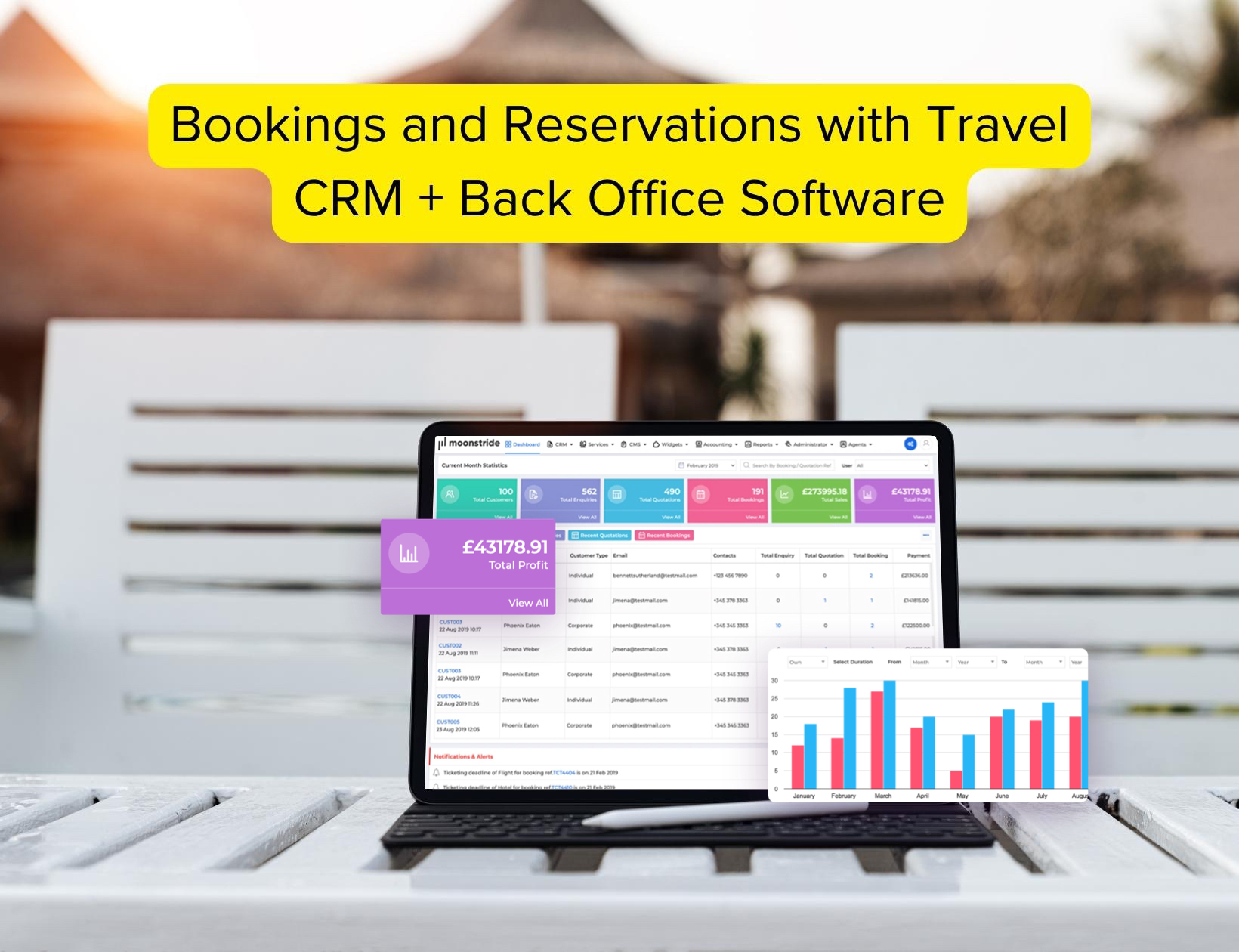 We have highlighted some best practices and key features that the moonstride travel CRM and back office can help your travel business manage your leads, bookings and reservations to provide an efficient streamlined process and maximise your chances of a successful outcome.
CRM – Customer Management
Knowing your customer allows you to provide a personal service. Being able to store important data such as dietary or any special requirements and booking history allows you to build a profile of your client and deliver a tailored product. With the CRM linked to the back office and with automation included, these requests are passed on to the suppliers meaning no request will be missed.
Additional key features here include the ability to store data from passport details (including the option to upload and store documents and GDPR options) to emergency contacts, to special requests and preferences. You can also categorise passengers, ideal for events or group travel where you can create your own bespoke categorisations whether it's golfer or non-golfer, student or teacher, participant or non-participant.
Enquiry Management
Maximise your opportunities by managing your enquiries. Set automated due dates for your enquiries to ensure that every enquiry is responded to in a timely manner with overdue enquiries flagged when a response has not been provided and displayed on personalised staff dashboards. You can track the full history of your enquiries from the moment they arrive to completed bookings.
Enquiries can be shared between staff members or groups based on your business processes. Detailed enquiry information can be collected with the option to save and assign enquiries to other staff members.
The moonstride travel reservation software enquiry API allows you to map contact forms to automate enquiry creation in the back office. Never miss an enquiry again, ensure every enquiry is dealt with, followed up and give every lead the best opportunity to convert.
Pricing & Quotation Management
Keep a full record of every quotation. With helpful features such as clone and edit, you can streamline the quotation process. Quotations are linked to enquiries so you get a full record of every quote you send in response to each individual enquiry. Drive your sales with quotation expiry flags so your staff can follow up quotations that have not been converted.
Predefine your pricing and margins with ultimate flexibility. No matter how you add your services, pre-define your markups and remove any pricing errors with multiple options to set up margins whether fixed, percentage or mix of both, per supplier, per component or per component and supplier. There is also a complete B2B area to define markups and commission at multiple B2B levels.
Confirmed Booking Management
Confirming services with suppliers has never been simpler with the moonstride supplier confirmation area. If using supplier API's get instant booking confirmation. With manually added services you can send tracked confirmation requests to your suppliers with automated processes to update the status of the service (confirmed/on hold/rejected) subject to supplier response. Full communication history is available to track and view to ensure you have an audit trail of communication with your supplier.
Have your own direct contracts and inventory, you can load rates for multiple services, automatically updating your inventory when contracted services are booked.
moonstride tour operator reservation systems group functionality allows you to collate your group bookings, allocate and bulk confirm services, produce group documents along with all your operational reports such as transfer manifests and rooming lists.
FIT, dynamic package, open or private group bookings, you can confirm services, report and export important information, easily search and amend and access detailed sales data in the moonstride travel booking and tour reservation software.
Calendar, Dashboard & Task Management
Never miss a deadline with our dashboard, calendar and task management. The moonstride dashboard can be personalised displaying relevant and important information across business areas. New enquiries received, quotes expired, overdue payments from clients, supplier payments due, ticketing deadlines and more.
Create tasks for customers, enquiries, quotes or bookings for those important jobs and deadlines with moonstride's task management. You can even assign tasks to other staff members and set deadlines ensuring no task is missed or forgotten.
With our dashboard, task management and activity calendar, you can organise and plan your day knowing all the tasks you, your team or business are in hand increasing efficiency and accuracy.
Sales & Data Management
Reporting is key to every travel business. Reporting allows you to track performance, increase understanding and view data that drives smart decisions. Booking numbers, conversion ratios, profit margins, profiling, geographical, supplier, ATOL, ABTA & ABTOT, all the reporting requirements you need in real time are accessible in moonstride's travel reservation system and exportable.
Bespoke tag management enables you to create your own set of tags which you can apply across the platform, reporting on these tagged items provides amazing insights offering additional metrics for reporting. Great data and information drive great decisions.
When it comes to data, security is key. With GDPR options, a large number of page and user rights access options, and moonstride's industry standard and best practice strict security protocols, moonstride strives to ensure your data is safe and secure.
B2B & Accounts Management
A complete sales and purchase ledger is built into the platform and moonstride travel agent reservation software is integrated with accounting software providers allowing you to manage your full accounting process. Invoicing and Credit notes, banking reports, payment reports, supplier commission reports, B2B agent reporting and more.
Whether you work with corporate, B2C, or B2B, you can handle all your accounting needs with the moonstride sales & purchase ledger and integrated accounts software.
moonstride Makes Management Easier
Management is made easier when you are using a single solution, one solution that caters for every aspect of your business, that holds the data you need without trying to mix and match information from multiple sources.
moonstride is a single solution Travel CRM and Travel Management Software for Pro and Enterprise business.
moonstride – makes management easier.
See how moonstride can transform your travel management.