Skip to content
Skip to main menu
moonstride's Travel Software – The Ultimate Solution for Managing FIT and BAR Rates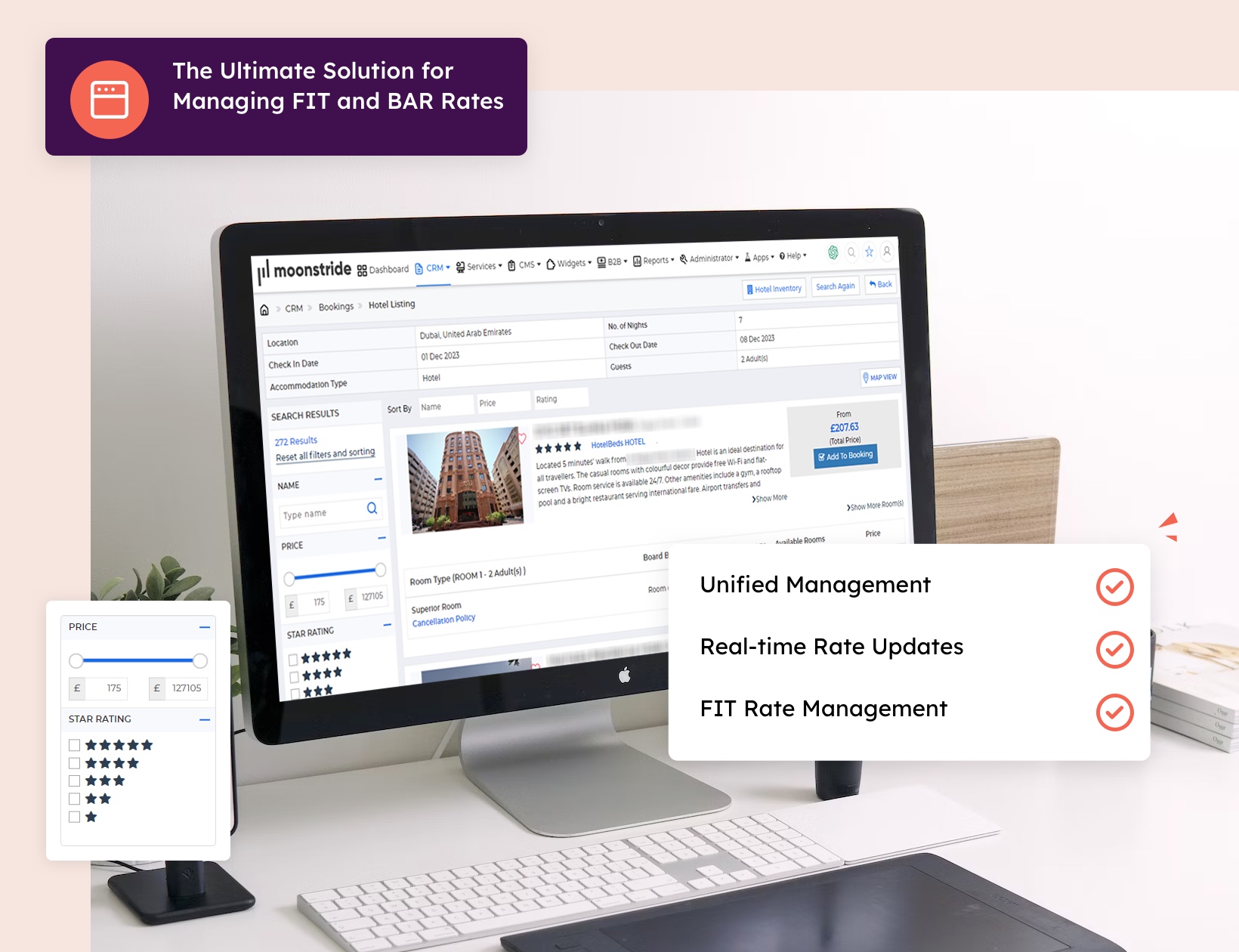 In an ever-evolving environment, travel agents and tour operators encounter a significant challenge: striking a balance between managing FIT rates and the increasingly prevalent BAR distribution model. As accommodation providers shift towards BAR rates, it can be challenging for travel businesses to maintain consistency and customisation while keeping pace with dynamic pricing.
BAR rates have gained prominence for their ability to adapt in real-time to market conditions, occupancy rates, and fluctuating demand. For accommodation providers, this dynamic pricing model optimises revenue. However, this shift to BAR rates can present challenges for travel agents and tour operators accustomed to FIT rates for a variety of reasons:
1. Consistency: FIT rates with freesales and allocations have traditionally provided a dependable, predictable pricing structure, essential for effective travel planning and selling.
2. Competitive Edge: Travel agents and tour operators rely on competitive pricing to attract and retain customers. FIT rates have allowed them to negotiate favourable deals to serve their clients best.
3. Customisation: FIT rates offer the flexibility to create tailor-made travel packages, catering to travellers'
unique preferences, ensuring a personalised and memorable experience.
4. Inventory Control: Travel businesses depend on FIT rates with freesales and allocations to manage room inventory, allowing them to allocate accommodations based on their customers' needs and travel schedules, particularly for tour operators managing group bookings.
moonstride's Revolutionary Solution Recognising the complexities faced by travel agents and tour operators in dealing with both FIT and BAR rates, moonstride's travel software offers a groundbreaking solution that harmonises these seemingly disparate worlds.
Unified Management:
moonstride provides a centralised platform for travel businesses to seamlessly handle both dynamic BAR rates and FIT rates. This unified approach simplifies rate management, allowing for greater consistency and efficiency.
Real-time Rate Updates:
moonstride offers real-time updates on BAR rates, ensuring that travel businesses have access to the latest pricing information. This enables them to remain competitive by offering the most current rates to their clients.
FIT Rate Management:
moonstride excels in the management of FIT rates, providing a comprehensive platform to handle these specialised rates with ease. The software ensures that travel businesses have precise control over FIT rates, enabling competitive pricing to attract clients while maintaining profitability.
The future of the travel industry lies in successfully integrating both FIT and BAR rates to meet the diverse needs of travellers and remain competitive. moonstride's travel software presents a comprehensive solution that elegantly bridges the gap between these two rate structures. With moonstride's support, travel professionals can offer their customers the coveted consistency and customisation they demand while staying competitive in an industry increasingly shaped by dynamic pricing. Rather than viewing the shift towards BAR rates as a hurdle, travel businesses can now embrace it with the confidence and support of moonstride's innovative software.