Skip to content
Skip to main menu
The Benefits of Online Travel Software for Travel Agencies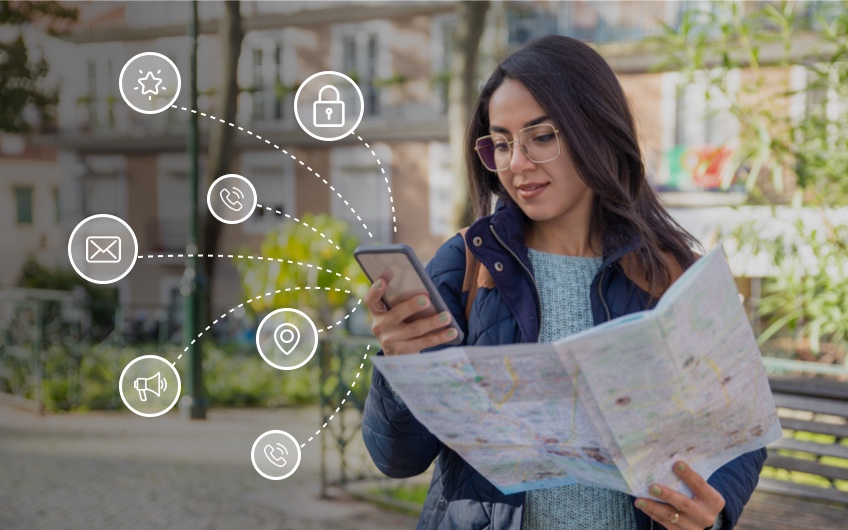 As a travel agent, it is imperative to be able to provide your customer with exceptional service around the clock. They expect the very best and quickly, which can be difficult when dealing with multiple customers at one given time. Having the right online software allows you to automate your front and back-office operations seamlessly, reducing your workload and providing you with that extra time to give your customers the personalised and attentive service they expect. When designing our online travel software for travel agencies we kept you at the forefront and created features that would specifically make your work life easier. Take a look at some of our favourite features below and see how moonstride will benefit your travel agency business.
Flexible Working
Online travel agency software lets you work on the go anywhere and at any time offering you maximum flexibility. With everything online, all you need is an internet connection, a device and login details, meaning that you can manage the entire business operations from the palm of your hand 24/7, 365 days a year. In a busy and competitive environment remove the barriers to selling and employ a system to work around your hours and not the other way around.
360° representation of your business
With moonstride, you can manage the entire customer life-cycle within one place. Easily see all of your enquiries, bookings, confirmations, payments, and operations in one centralised platform and quickly identify the performance of your business. Being online, information is synced and updated instantaneously so you can be confident that all data reflects the current status of your business and is reliable.
Happy Customers
A good CRM for a travel agency needs to be able to capture and organise customer data to ensure a smooth and efficient customer journey. With moonstride, all customer details are stored within one place so you can easily see all of their specific travel requirements, preferences, and personal details (GDPR compliant ofcourse). On top of this, all of their past enquiries, quotations, bookings, and emails are all stored centrally so you can easily offer a highly personalised experience and make informed decisions on the perfect travel experience for them. With customer profiles accessible online, you can access the information anywhere and at any time, so whenever they contact you, you can ensure you and your team offer a consistent and personal level of service.
Real-time rates and availability
moonstride's travel agency back office software has the ability to integrate with multiple third-party suppliers and bring together all components of a holiday simultaneously. This includes flights, accommodation, transfers, and excursions, sourced in real-time and at the lowest possible prices. Offer your customers the widest possible choice of products and services, and provide them with the ultimate online travel experience. With integration, you can be sure to generate quick results and gain a competitive advantage with access to over 1000's travel product suppliers.
Reduce workload with automated processes
The day-to-day tasks of a travel agent can be time-consuming and unnecessary. One of the key benefits of online travel agency CRM is the power of automation. Automation allows for any company to synchronise the entire back-office operations, enabling them to streamline day-to-day operations and deliver increased output and accuracy in a fraction of the time and at a fraction of the cost. From automatically logging web enquiries into the system to calculating costs and sending out automated email notifications and travel documentation (in your own branding), moonstride's CRM solution does the work for you, giving you more time and space to focus on the customer and creating more sales.
Empower Customers
As soon as a customer confirms a booking provide them access to the customer portal where they can access all of the information for their upcoming trip, including booking details, itinerary and terms and conditions. Allow them to easily manage their booking where they can view or amend booking details, download required documentation or make payments, empowering them to take full control of their booking without you having to lift a finger. Anytime the customer accesses the portal any changes will instantly be updated in the back-office travel software so you can always stay in control and up to date with their booking process.
These are just a few of the benefits of moonstride's online travel software for travel agencies. To find out more register for a free no-obligation demo of moonstride today and see how we can benefit your travel business.