Skip to content
Skip to main menu
aurastride Launches as a Powerful Headless CMS Platform, Revolutionising the Travel Industry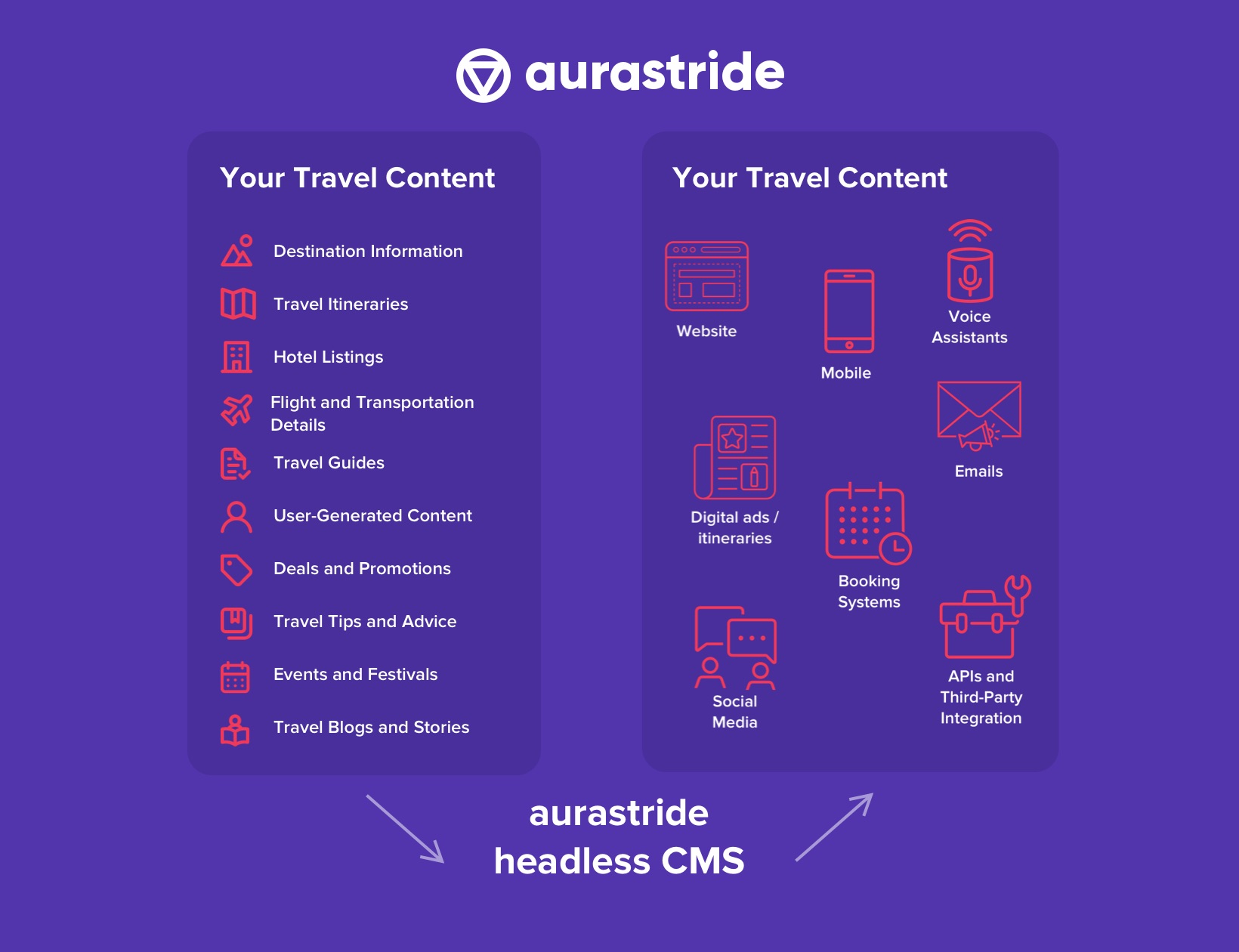 [London, 27-06-2023] - aurastride, the latest addition to the Vsourz product offering, is aiming to disrupt the travel industry with its launch as a cutting-edge headless CMS platform. This innovative solution is set to transform the way travel businesses manage content and deliver personalised experiences, while also offering a seamless integration with the highly acclaimed moonstride travel industry SAAS platform.
aurastride stands out as a versatile and dynamic headless CMS platform that empowers travel businesses to streamline their content management processes and elevate customer experiences. With its flexible content modeling, API-driven architecture, and cloud-based infrastructure, aurastride empowers businesses to deliver personalised and engaging content across various channels and devices.
However, what makes aurastride truly unique is its potential synergy with moonstride, the renowned travel industry SAAS platform. The seamless integration between aurastride and moonstride creates a "match made in heaven" for travel industry clients. By combining aurastride's powerful headless CMS capabilities with moonstride's comprehensive Backoffice, CRM, accounting, ERP, and booking engine functionalities, travel businesses can leverage a comprehensive suite of tools to optimise their operations and provide unparalleled customer experiences.
With aurastride's seamless integration with moonstride, travel businesses now have an unparalleled opportunity to harness the power of headless CMS technology while benefiting from the robust features and capabilities of our industry-leading SAAS platform.
The aurastride launch comes at a time when travel businesses are seeking innovative solutions to stay ahead in the highly competitive landscape. By harnessing the potential of headless CMS technology coupled with the comprehensive capabilities of moonstride, travel businesses can deliver personalised content, optimise workflows, and increase operational efficiency.
Travel industry clients can now take advantage of aurastride's advanced content management capabilities, including personalised content delivery, dynamic content creation, and easy integration with third-party systems. With aurastride and moonstride working seamlessly together, travel businesses can unlock new levels of efficiency and enhance their overall customer experience.
As aurastride joins the Stride family of products, the future of content management in the travel industry looks brighter than ever. Stay tuned for more updates as aurastride and moonstride continue to shape the travel industry's digital landscape and help businesses thrive in the evolving market.
About Vsourz: Vsourz a leading software development company, is revolutionising industries through its cutting-edge technology solutions and product offerings. As a trusted technology partner, Vsourz caters to diverse industries, providing web development, software development, integrations, and digital marketing services. Additionally, the company's portfolio includes remarkable products like moonstride, mountstride, and aurastride, which further enhance operational efficiency and customer experiences. With a commitment to innovation and client success, Vsourz continues to drive growth and transformation in the digital landscape.
About aurastride: aurastride is a leading headless CMS platform with dynamic capabilities to server multiple verticals including travel industry. It offers flexible content modeling, API-driven architecture, and cloud-based infrastructure to streamline content management and elevate customer experiences. Every brand has a unique essence and story to share, and aurastride's vision is to provide the tools and platform to bring that aura to life and to help businesses connect deeply with their audience, leaving a lasting impression and building meaningful relationships.
About moonstride: moonstride is a renowned travel industry SAAS platform offering comprehensive Backoffice, CRM, Finance, Reporting, ERP, and booking engine functionalities. It empowers travel businesses with the tools and capabilities needed to optimise operations and deliver exceptional customer experiences.
Media Contact: Edberg Carvalho www.vsourz.com Stephen Hearn www.moonstride.com